Woo Hoo!!!
Look! I just received my
3rd Package
from my Super Secret Bud, Theresa (Crochet Fanatic).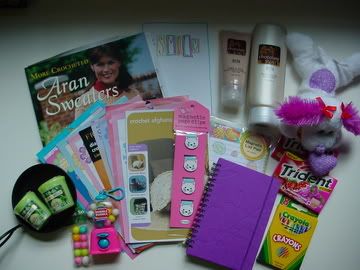 Theresa,
Thank you so much for all of the wonderful things you have sent me. I am completely floored that you made me a felted bag and a scarf and say that you still have something to finish for me. Your generosity astounds and inspires me. You have been so kind and so thoughtful.
I loved being your secret pal. I had so much fun coming up with new (stole)and not so new (hook case)ideas for you. Thanks for making this such a great first swap experience.
Take care,
Lauren