thank you to you SP!
for the package. you just send the cap and scarf at the right time. hopefully i'll be leaving for a training in South Korea. i just got my package today as i check out from the hospital to accompany my mother in her operation.
here are the other great items that my SP sent me: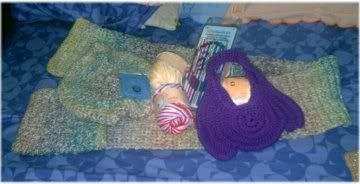 aside from the scarf and hat i also got a set of crochet hooks D-K, 4 balls of peaches and cream cotton yarn, a purse in violet, and a pack of stitch markers.
thank you so much SP for making my days a little brighter.